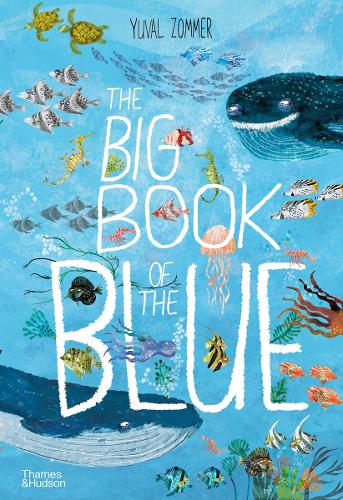 Meet all kinds of slippery, shimmery, powerful and surprising creatures from around the world in this first book of the ocean to share with young children.
Already a big fan of Yuval Zommer's Big Books of Bugs and Beasts, I jumped at the chance to get hold of a copy of his newest book for review (many thanks to Thames & Hudson). And I wasn't disappointed! As with the first two – it's a beautifully illustrated, well-balanced, carefully laid out, polished book that you (and any young'uns!) will want to dive into (sorry, couldn't resist!) again and again.
Each double page spread is illustrated from top to bottom with layers of detail, texture and movement; they are absolutely packed with things to spot and talk about – there'll be something new each time you look at it! There's also 15 sneaky sardines hiding among the pages waiting to be found, along with other 'can you find' challenges here and there in the book.
There's also a humour to the illustrations – while they are accurate enough in appearance to learn from and recognise, there's no scientific diagrams here – the creatures have wonderfully quirky facial expressions and a lightness of touch which I loved – they're sure to really appeal to children, and grown ups alike.
Similarly, there's a healthy dose of puns and humour in the text, especially in the sub-headings ("Claw-blimey!"…"Smell I never!"), appealing to both children's sense of fun, but also the adults who'll be reading it with them ("I wandered lonely as a…tuna" being a personal favourite).
The facts themselves are set amongst the illustrations and presented as short snippets of information. Immensely appealing to even the most reluctant reader in its brevity, and addictive enough to have keen beans reading through them all in one fell swoop, barraging you with a torrent of "did you know…" info as they go (ok, I admit I'm basing this on the fact that when I brought it home I sat at the kitchen table with it and did pretty much exactly this to my poor other half while he made tea!).
There's a great balance too between a broad overview of ocean-life (including a double spread about the threats it faces) and more specific facts about particular creatures/species, as well as a simple index, contents and glossary (brilliantly titled "Fishy Phrases: How to talk like a sea-life expert" and laid out as the other pages are with each word/phrase illustrated nearby).
This is a playful, engaging and incredibly visually appealing book that's sure to be a hit with children of all ages and deserves a spot on every bookcase in homes and schools!
Also highly recommended by Yuval Zommer (all of them also have sticker book versions!)