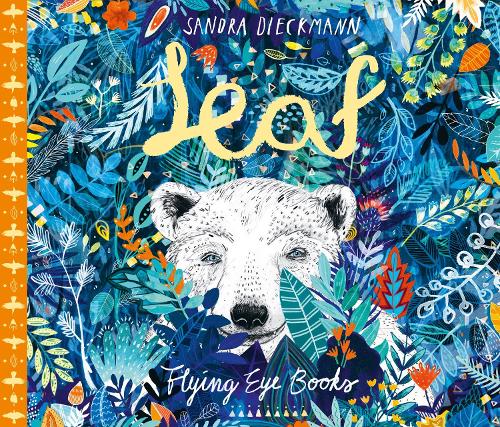 When a polar bear arrives unexpectedly in the woods, the other animals fear and avoid him, suspecting him to be dangerous – and his odd habit of collecting leaves only adds to their distrust.
Then one day, they watch as he attempts to fly over the water with wings made of colourful leaves… trying to get back home. Perhaps he isn't so different after all?
One of my favourites on the Waterstones Children's Book Prize illustrated Book Prize Shortlist this year, Leaf is a simply stunning picture book fully showcasing the lush vibrancy of the natural world in its gorgeously leafy pages.
The story itself is equally touching, with an immensely relevant message of togetherness, hope and friendship in these crazy times we seem to have found ourselves in: a message to not only look after our struggling planet, but our struggling neighbours here on it, no matter how different we may at first seem.
The speech bubbles, actions and disagreements of the animals living in the woods Polar Bear finds himself in add plenty of extra talking points, particularly for use across the primary age range and would wonderfully complement any work being done on either conservation/refugees/immigrants/differences/prejudice amongst other things.
This is a fantastically important and enjoyable story with massive visual appeal across the ages. A must-read.
Our 'Leaf' creations at storytime!
Sandra Dieckmann's eagerly awaited (by me anyway!) next picture book 'The Dog That Ate the World' is due out in July.